James Woods, the legendary actor with an IQ higher than all of the 2020 Democratic primary participants combined, has made a habit of dispatching Twitter trolls with mother jokes. But a new study by the Center for Research Analysis and Common Knowledge (CRACK) indicates that his remarks may be more than merely witty wisecracks. As it turns out, the vast majority of his comments are rooted in fact.
The study assesed more than three hundred mother jokes from Woods, who, in "Ghosts of Mississippi," portrayed Democrat Byron De La Beckwith, a man whose murderous, racist actions throughout the 1950s and early 60s remain as defining characteristics of today's Democratic party.
According to CRACK's lead researcher, Dr. Kenneth Olsen, the star "flat out knows his shit when it comes to moms."
As an example, Olsen points to the following exchange between Woods and Twitter user, @jizz66head.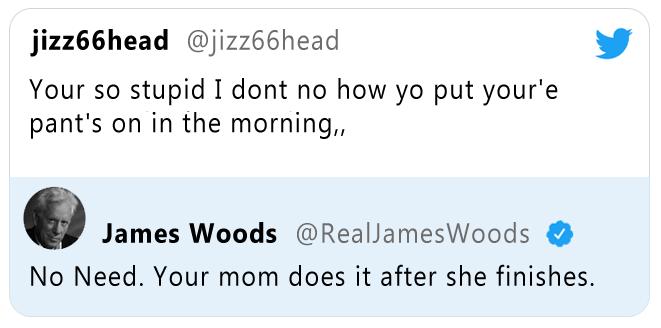 "That's not just an epic comeback," said Olsen, "there's also quite a bit of truth to that statement."
"I always zip up a john when I'm done," said @jizz66head's mother. "It's just the right thing to do. Besides, it's probably good for business."
Olsen agreed that putting a customer's pants back on probably is good for business. "I mean, I'd be much more likely to be a repeat customer with that kind of attention to detail."
Just a few hours after the Woods-@jizz66head exchange, the actor, who starred in "Once Upon a Time in America" with Gaylord Focker's father-in-law, was trolled again. This time, by @effindope91.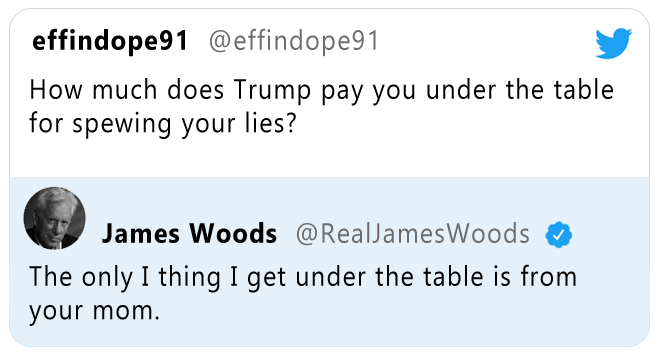 As it turns out, Olsen's research shows that @effindope91's mom "couldn't count how many men I've felt up underneath a table."
This is just another example, according to Olsen, of Woods' mother jokes being highly accurate. "@effindope91's mom definitely gave her share of manuals under the table," said the doctor, before asking @effindope91's mom to dinner.
But it's not just the veracity of Woods' tweets that amazes Olsen, he also marvels at the actor's ability to "simply not give two fucks" by insulting a user while simultaneously blocking them.
For emphasis and flair, Woods, whose talent and career accomplishments dwarf that of prominent left-wing show biz tweeters such as Alyssa Milano and Roseanne Barr's ex-husband, includes the hashtag #INSTABLOCK each time he muzzles a user.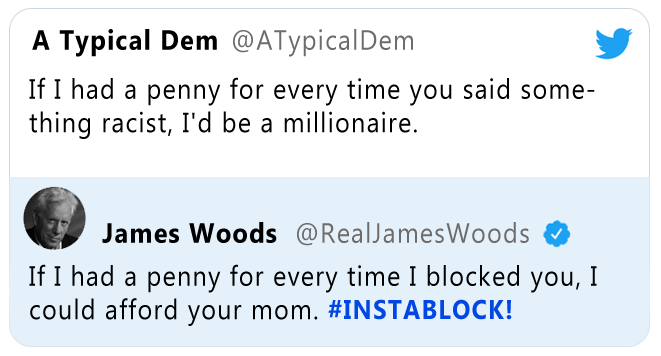 "He totally nails the comeback with a spot-on putdown about @ATypicalDem's mom only costing a penny," said Olsen, whose coin collection is now incomplete after recently spending his 1908 Indian Head cent. "But then he adds insult to injury with the block--a total 'own.'"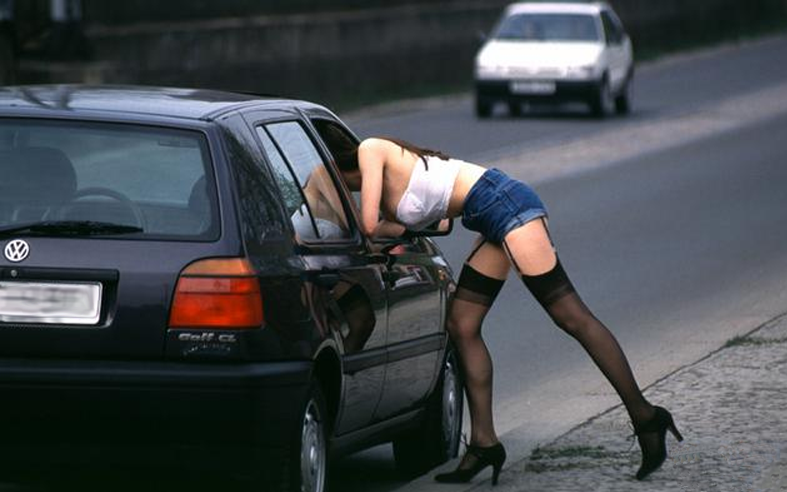 Although the study, which focused on a small portion of Woods' mom-joke tweets, is complete, Olsen is going to continue to gather feedback for analysis despite the fact that CRACK has declined to fund any further research on the subject.
"There's a few more things I want to check out," he said. "I'm looking forward to getting back out there and contacting more Twitter users' mothers."
When asked how being proven correct on his many mom jokes makes him feel, Woods responded, "Almost as good as your mom makes me feel."